General Information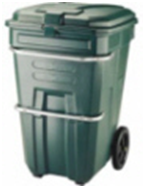 KART SERVICE
We provide each customer with a 95 gallon trash kart for a one time $40 lease fee, refundable up to 5 years provided the kart is in good condition upon return. The kart is sole property of Green Country Trash Service and the customer is responsible for taking due care of the kart and keeping the kart in a safe manner from undue damage or vandalism. See your kart lease contract or contact our office for all lease rules and regulations.
Place karts within 4 feet of the curb no later than 5:00 am on your pickup day
Do not place any item that will bend or prevent the lid from closing
Trash inside the kart does not have to be bagged
(except for customers on our country route
__________________________________________________________________________________________
YARD WORK
· Limit yard work to 3 bags per week
· Brush/limbs must be bundled into 3'-4' lengths and set beside kart
SPECIALITY ITEMS
· Shavings, dead animals, animal waste & disposable diapers must be in sealed bags
· Syringe needles must be in protective containers (we recommend sealed coffee cans)
· No hot ashes in containers (ashes must be cold and sealed in bags)
· Please call ahead for pick up of bulky items such as major appliances, furniture, etc. (a minimal fee will apply)
UNABLE TO PICK UP
· Dirt, sod, rock, concrete
· Building material (drywall, lumber, shingles, etc.)
· Hazardous materials (liquid paint, car batteries, antifreeze, motor oil, etc.)
· Refrigerators and portable a/c units
· If you have a question, please call the office before you put it out on the curb
NOTE: We provide onsite clean ups and large containers. Call for an estimate.
---